Afroani Blackcurrant Wide Tooth Comb
Afroani Blackcurrant Wide Tooth Comb
Sold Out
Afroani Black currant wide tooth comb
Detangle your hair with this beautifully designed wide tooth comb. The Afroani comb is extremely gentle on the hair strands and on the scalp while also being super easy to clean.
Produced with cellulose acetate, an eco-friendly alternative to plastic.
Colour: Black currant
Length: 17 cm
Customer Reviews
Fabulous comb
I have very curly hair but ordinary combs just make it flat and bumpy. I bought it because of the video of long curly hair being combed and I'm so glad I did. It's a beautiful thing and it totally works for my waves and curls!
08/09/2022
Suzanna T.

United Kingdom
Fantastic Comb
It's a Great Comb, i love it ! Sometimes if i have tangled hair it just Glides through so Easily It's Perfect - Thank You very much Suzanna
08/04/2022
Suzanna T.

United Kingdom
Love my My Comb
I love my Comb it's Great, the design is just Perfect as it just Glide's so well though my Often Tangled Hair ! Looks Great does exactly as it should do on Thank you So Much for an Ad i saw by Accident ended up being one of my favourite Purchases Suzanna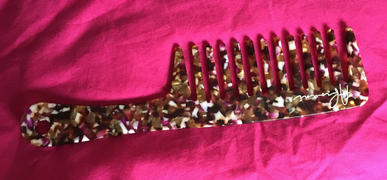 Thank you soo much darling, we are soo glad you are happy with your purchase. Best, Afroani
05/10/2022
Sara S.

United Kingdom
Great experience with Afroani
I had an amazing experience in buying the Combe with Afroani!good product,very quick delivery! I will buy more things in the future!
04/11/2022
Judith R.

United Kingdom
Beautiful Comb
Gorgeous comb, great customer service